ΒΙΒΛΙΑ

/

C. S. LEWIS: MERE CHRISTIANITY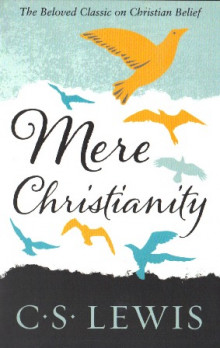 Mere Christianity
Μαλακό Εξώφυλλο, 21Χ14
Harper Collins
234
2016
978-0-00-746121-9
13,95 €
* Η τιμή περιλαμβάνει το νόμιμο Φ.Π.Α.
Regarded as the centerpiece of Lewis's apologetics, Mere Christianity began as a series of live fifteen-minute radio talks that Lewis gave, under the auspices of the BBC, during WWII. Characterized by careful reasoning, vivid analogies, and Lewis's gift for making complex religious ideas immediately accessible, the broadcasts were overwhelmingly successful, so popular that Lewis was besieged with letters from listeners. He wrote to Arthur Greeves on December 23 1941: "I had an enormous pile of letters from strangers to answer. One gets funny letters after broadcasting — some from lunatics who sign themselves 'Jehovah' or begin 'Dear Mr. Lewis, I was married at the age of 20 to a man I didn't love' — but many from serious enquirers whom it was a duty to answer fully." Lewis was able to reach such a wide audience in part because he tried to explore the essence of Christian belief, what he felt "all Christians agree on." After he finished the radio scripts, he sent them to Roman Catholic, Presbyterian, Methodist, and Church of England theologians, all of whom agreed on the main points he had made. Lewis himself says in the preface to Mere Christianity, "So far as I can judge from reviews and from the numerous letters written to me, the book, however faulty in other respects, did at least succeed in presenting an agreed, or common, or central, or 'mere' Christianity."
The broadcasts were initially published as three separate books, The Case for Christianity (1943), Christian Behavior (1943), and Beyond Personality (1945), and collected into Mere Christianity in 1952. Like The Screwtape Letters, Mere Christianity was warmly received by both the public and the critics. The Guardian said of Lewis: "His learning is abundantly seasoned with common sense, his humour and his irony are always at the service of the most serious purposes, and his originality is the offspring of enthusiastically loyal orthodoxy" (21 May 1943), while The Times Literary Supplement praised Lewis as having "a quite unique power of making theology an attractive, exciting and (one might almost say) an uproariously fascinating quest" (21 October 1944). These qualities have continued to attract a wide audience of both Christian and non-Christian readers.
Share on Facebook | Share on Twitter
---
ΣΧΕΤΙΚΑ ΠΡΟΪΟΝΤΑ
---