ΜΟΥΣΙΚΗ

/

VARIOUS ARTISTS: THE BEST WORSHIP ANTHEMS IN THE WORLD… EVER!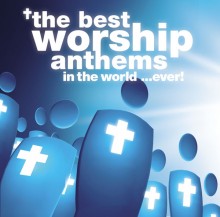 The Best Worship Anthems in the World… Ever!
16,50 € 9,90 €
* Η τιμή περιλαμβάνει το νόμιμο Φ.Π.Α.
Μια κασετίνα με 3 CD που περιέχει ύμνους που επηρέασαν την παγκόσμια εκκλησία. 50 τραγούδια των Chris Tomlin, Darlene  Zschech, Paul Baloche, Tim Hughes, Matt Redman, Martin Smith, Israel Houghtonκαι πολλών άλλων, συγκεντρωμένα σε μια συλλογή!
Tracklist:
Disc 1:

Hosanna (Praise Is Rising)- Paul Baloche / Brenton Brown

Now Is the Time to Worship – Brian Doerksen

Manifesto – The City Harmonic

  

How He Loves – John Mark McMillan

King of Wonders – Tim Hughes / Matt Redman

  

Made Me Glad – Miriam Webster

All the Poor and Powerless – All Sons & Daughters

Great I Am – New Life Church

Jesus at the Centre – Israel Houghton / Micah Massey / Adam Raney

At Your Name – Tim Hughes / Phil Wickham

Like a Lion – Daniel Bashta

Who Is This Love Amazing? – Katie Gustafson / John Hartley / Chris McClarney / Miriam Webster

Hungry (Falling on My Knees) – Kathryn Scott

Sovereign Over Us – Bryan Brown / Aaron Keyes / Jack Mooring

The Heart of Worship – Matt Redman / Susan Ashton

I Am Redeemed – Nathan Jess

My Soul Sings – Delirious?
Disc 2:

My Saviour Lives – New Life Church

One Thing Remains – Bethel Music

Your Grace Is Enough – Matt Maher

Love Came Down – Ben Cantelon

Majesty – Delirious?

The Same Love – Paul Baloche

We Still Believe – Kathryn Scott

Name Above All Names – ALM:UK

I Can Only Imagine – Marc James / Andreana Tait

Glory to God Forever – Vicky Beeching / Steve Fee

         

Strong God – Desperation Band

Second Chance – Rend Collective Experiment

Psalm 62 – Aaron Keyes

Holy You Are Holy (Santo) – Nivea Soares

In Christ Alone – Susan Ashton

Shout to the Lord – Darlene Zcshech

Counting on Your Name – Tim Hughes
Disc 3:
Overcome – Desperation Band / Ross Parsley

Your Love Never Fails – Chris McClarney

You Alone Can Rescue – Matt Redman

Remain – Ben Cantelon

Spirit Break Out – Worship Central

How Deep the Father's Love – Stuart Townend

Power of the Cross – Leigh Nash

Everlasting God – Brenton Brown

Come People of the Risen King –

Stuart Townend

Surrender – Marc James

Our God Saves – Paul Baloche

I Have a Dream (It Feels Like Home) – The City Harmonic

Adoration – Brenton Brown

Our God – Encounter Worship Band

Exalt – Rend Collective Experiment
Days of Elijah – Robin Mark
Share on Facebook | Share on Twitter
---
ΣΧΕΤΙΚΑ ΠΡΟΪΟΝΤΑ
---