VIDEO

/

PETER (THE REDEMPTION)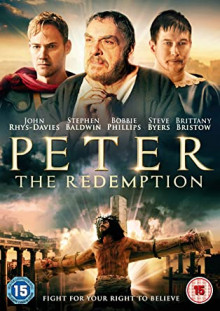 PETER
The Redemption
Εξαντλήθηκε :-(
ΧΩΡΙΣ ΕΛΛΗΝΙΚΟΥΣ ΥΠΟΤΙΤΛΟΥΣ
Peter: The Redemption is a Biblical story based on the last days of the life of the Apostle Peter.
The film is set in 64 AD and Emperor Nero has secretly set fire to his city to create more space for his palace but blames the new Christians and orders their arrest. The Apostle Peter is thrown into prison where he is tortured in order to gain a confession or for him to recant his faith. Peter, close to death receives a visit from Susanna, a servant of Nero's wife to keep Peter alive, she develops a relationship with a Roman soldier named Martinian. Susanna is discovered to be a secret Christian and is arrested, Martinian faces a choice, either to leave Susanna to her fate or to face Nero and put his life on the line, however it is his life that changes in more ways than one.
The story is interesting and being based on Peter's life and his last days make for some compelling watching as we see Peter still being haunted by his denial of Jesus many years ago, and now not wishing and not even willing to deny Jesus again, but to continue to share the love of Jesus even when faced with death. We also see Nero, who is a little mad in more ways than one, and again the story is based upon his history of secretly setting fire to his city and burning Christians.
Due to the nature of the story there are some violent scenes but the most disturbing scenes are those where we hear the screams of those being tortured or set on fire. So its not for the faint of heart.
John Rhys-Davis is perfect in the role of Peter and really he is made for the role, it is how we imagine Peter would be and he really pulls the story along.
This is a low budget film and there are places from the set to the script where this is evident, but don't let that put you off. The costumes are well designed and in keeping with the time period and the story gives us a little insight into what may have happened with Peter.
Overall Peter: The Redemption, though a low budget production, and in places may be a little too violent for some, is actually a rather inspiring film, prompting us to have courage and faith in difficult circumstances and to stand up for our faith even when we feel like the whole world may be against us.
Διάρκεια: 89 λεπτά
Share on Facebook | Share on Twitter
---
ΣΧΕΤΙΚΑ ΠΡΟΪΟΝΤΑ
---